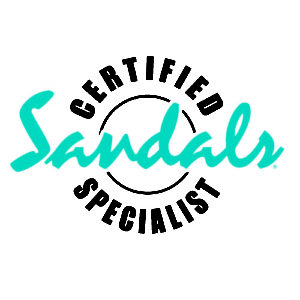 RJT Travels is a certified Sandals Travel Agency and is trained on all of the particulars required for a Sandals Vacation. We are experts in the various resorts and can help you plan the perfect trip from airfare & resorts to dining & activities. Here at RJT Travels we have worked with hundreds of people planning a Sandals get away from couples to large groups of 20+ people. We are trained to help everyone no matter how big or small, we will help with coordination between families and friends and make sure everyone going will have the best time. 
Looking to get away to an all inclusive vacation, then look no further than a Sandals resort. Sandals resort prides itself on making vacations as worry free and relaxing as possible, so all of their trips are all inclusive which means your hotel, food & drink, and activities are included into your vacation and you can also book your airfare into the package as well, so it's a one stop shop for the whole vacation. We offer simple booking service through one of our expert travel agents, they will work with you and help plan your vacations and give you tips and tricks along the way. We offer full service from when you book until you touch back down after your vacation, we are here for whatever you need. RJT Travels is a fee-free service and supports its clients because the experience is what matters.
Sandals resort services multiple dream locations all across the world including Antigua, Bahamas, Barbados, Grenada, Jamaica, and St. Lucia. Any of these locations will allow you to enjoy breath taking beaches with white sand and clear blue water, dine in world class 4 & 5 Star restaurants, and experiment with numerous activities like scuba diving, parasailing, and biking around mountains. Each resort has their own unique activities to choose from to help make your vacation personal and memorable. Sandals has world class staff working at the resort as well, so no matter what you need help with from navigating the local area, to booking or changing an activity there will always be someone to help you and make sure your vacation stays worry free.
Sandals also specializes in destination weddings and will help you plan your special day so it is one that you will never forget. Sandals will take care of everything for you including securing the ceremony and reception location, making sure you have someone to officiate, the full dining menu, and will help coordinate travel for all your guests, so all you have to worry about is you and your special day. Sandals offers discount codes and group rates to help with cost of a destination wedding and will make sure everyone is taken care of. RJT Travels has helped book dozens of destination weddings and is experienced in coordinating wedding parties as well as guests for the wedding. We will help with all aspects of your trip and make sure you are stress free and can focus on your special day.
Get A Free Vacation Quote