RJT Travels is a fully trained and Authorized Universal Orlando Resorts Travel Agency.
Universal Orlando Resorts located in Orlando, Florida is another amazing and memorable theme park for an unforgettable vacation. Universal Resorts offers state of the art rides and experiences with some of your TV and Movie favorites including Dr. Seuss, Simpsons, Men in Black, Jurassic Park and Harry Potter. This resort offers attractions for all ages and rides from the toddler to the adult from the mild rider to the thrill seeker, they accommodate all.
Universal Orlando Resorts offers two main theme parks one called Universal Orlando and Islands of Adventure, and they also offer a waterpark names Volcano Bay Waterpark. On top of offering 2 theme parks and a water park, Universal also offers something called City Walk themed like a downtown scene and offers amazing shopping and dining opportunities. City Walk also has a movie theater and a mini golf course.
When visiting Islands of Adventure your going to immerse yourself in Suess Landing where you will enjoy all of your Dr. Suess favorites from Red Fish Blue Fish to Cat in the Hat. If your not a Suess fan then turn left instead of right and fight side by side with your favorite comic book hero's over at Marvel Super Hero Island, where you will ride Dr. Doom's Fear fall and the Incredible Hulk Coaster. Not into superhero's, not a problem head over to toon lagoon and white-water raft with Popeye. Even if you are not excited about any of that, you should be jumping up and down for the Wizarding World of Harry Potter, as you enter the main gates into Hogsmead and pass the Hogwarts Express.
The Wizarding World of Harry Potter features 2 main places Hogsmeade and Diagon Alley, both places make you feel like your jumping into the middle your favorite movie franchise. You can do everything you see in the movies from shopping for a wand at Olivander's to enjoying a Butterbeer. You also get to enjoy some amazing rides like Harry Potter and the Forbidden Journey, Harry Potter and the Escape from Gringotts, and Hagrid's Magical Creatures. Finally, after enjoying all of the shopping and riding you get to sit down at the Leaky Cauldron or Three Broom Sticks and enjoy a meal fit for a witch or wizard. Overall there is so much to do in the Wizarding World of Harry Potter, you will loose track of time and spend a whole day soaking up the magic!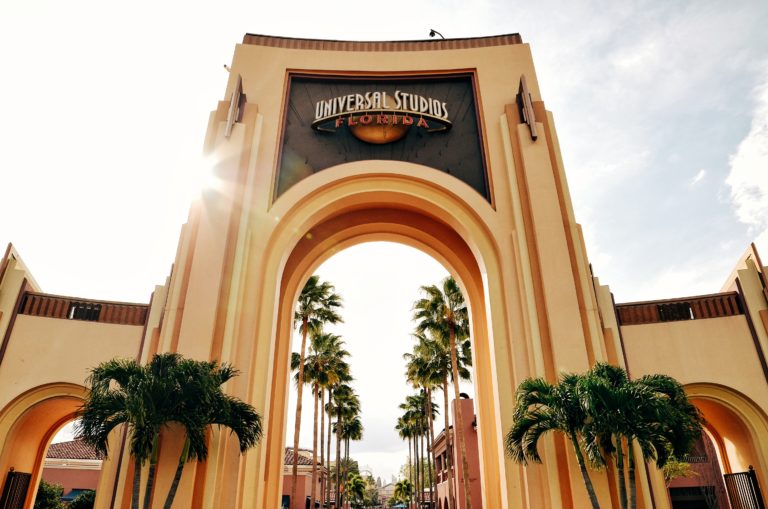 Once you have finished enjoying your Wizarding World you can head over the Universal Orlando park where you get to ride several 3D immersive rides and be with your favorite characters like Homer Simpson and Bumblebee from Transformers. You can enjoy some of your other favorite movies like Despicable Me, Shrek or a hit TV show like the Tonight Show with Jimmy Fallon. This park also offers a chance to meet several of your favorite characters including Sideshow Bob and the Simpsons Family, travel under the sea with Spongebob and friends or head on over to Barney's BackYard and meet Barney, Babybop and PJ. Fun for any age at Universal, so no matter who you are there is someone you will want to meet.
Overall Universal Studios Orlando Resort, is a fantastic adventure, from the rides for all ages, to the sweet treats and out of this world entertainment. Make your next trip unforgettable at Universal Studios Orlando, and let RJT Travels get you there. With our FEE-FREE Agency, we will help plan all aspects of your trip and be there for you every step of the way so you can have the Vacation of your Imagination.
Get A Free Vacation Quote